Hi all... I just wanted to post a little something NEW here. I had been seeing a new toy being used on the Sizzix blog and once I got my hands on it, I couldn't stop playing with it!! It is a new die from Sizzix called
Pop 'n Cuts
. There is one
base die
that you need, then there are several additional dies and Sizzlits you can get that coordinate. It is a line designed by Karen Burniston, and they have been selling like hotcakes!!
The base die and the additional ones make a pop-up card, and on the
Sizzix blog
, Karen took it a step further by adding a "spinner" action--what fun! She threw out the challenge to see what we could make that spins. I tried one of her designs first, a
spooky hearse
, then I jumped on the Halloween theme and came up with a few more. Some spin, some don't, but the spinning thing really had my creative juices flowing. And I even have a few more spinning ideas, lol.
Thank you Karen, for your products, your ideas, and your help!
Here are some humble pics of my work with more to come...
I didn't have phone paper... so I made a phone stamp from Tim Holtz's movers & shapers die using foam and stamped it in various colors.
Didn't finish the outside of this one yet, waiting for yet another TH die, the Gothic Boo would look great on the front in black glitter paper, wouldn't it?
This first attempt at using the TH Rickety House got large on me... I fixed it in my 2nd attempt above. This one spins with the clouds and bats popping up!
This one was fun, the bubbles in the cauldron come "spinning" up!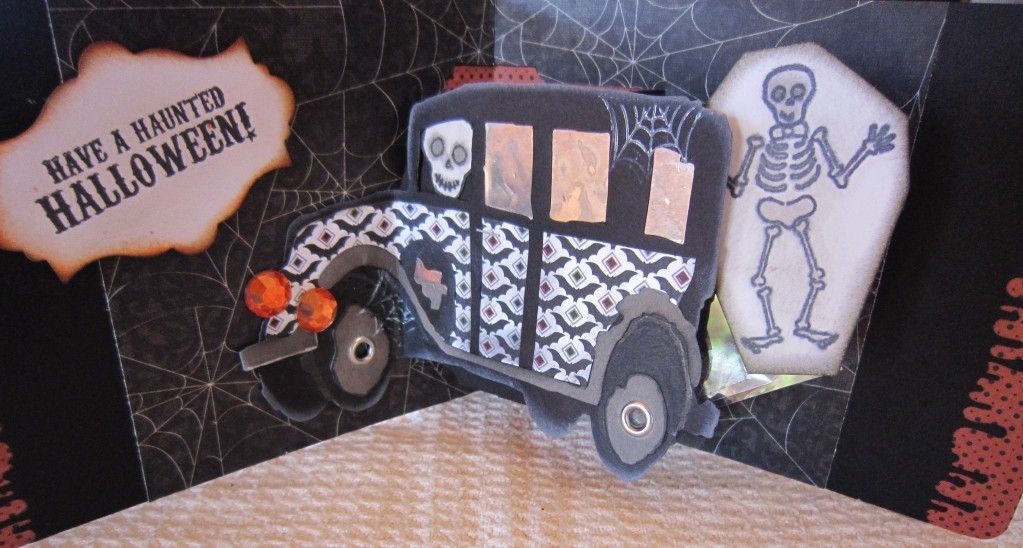 This is my take on Karen's hearse... the casket comes spinning out behind the car. I used the Martha Stewart drippy goo punch on the edge of the paper. My first try at this one I had everything upside down... the bats on the paper for the car, and the spiders on the front.
I do apologize once again for my inadequate photography... See ya next time :-)